WILFRIED Zaha, Manchester United flop and reject. That pretty much summed up his time at Old Trafford to the outside world but now the Crystal Palace flyer is fighting back…
In an exclusive interview with the Daily Mail, Zaha has decided to put his side of the story forward for the first time. And Mail Online posted these shots of the player in the club's boot room as the clash between Palace and United loomed.
But speaking out is brave move after the teenage sensation first joined United in a £15 millioin deal only to be swiftly dumped.
Now he is finding his feet again at Palace, the club where he first shot to prominence. Sure, he still has questions to answer regarding consistency but – under the guidance of manager Alan Pardew – he is doing a decent job of showing just why he was on the top of most big clubs' scouting dossiers.
Palace, says the Mail,  offer him he type of guidance he found so absent at United, an atmosphere he describes as so mechanical that the 22-year-old says his United experience gave him depression.
In January 2013, Sir Alex Ferguson made Zaha his last signing before retirement, but the day they met is the only time they spoke!
Ferguson did not ring Zaha when United loaned him straight back to Palace in the Championship. He did not check how he felt or how he was playing and did not offer any reassurances that he remained in his plans.
The same can be said of Ferguson's successor David Moyes, who all but ignored Zaha at United's training ground at Carrington, preferring to speak only to those involved at weekends.
The smile is back – Wilfried Zaha at Palace.
Zaha said he was relieved to have spoken to the Mail about his United nightmare, discussing the myths about his time in Manchestere before Louis van Gaal's side turn up at Selhurst Park on Saturday afternoon.
"The thing that really frustrated me about the whole United thing was the fact that people didn't know what actually went on at the training ground," he says. "There were just a load of rumours that used to just come out somehow and people would believe them.
"It was either I slept with David Moyes's daughter or I have got a bad attitude. Those are the two rumours that stuck with me until I left. I have had no say since then.
"As soon as anybody sees me now, people think, 'Wilfried Zaha, bad attitude.' I don't understand why.
"It's like playing any other team in the league now for me, I don't feel anything about them [United] any more."
For the record, Zaha confirmed he has never met Moyes's daughter, Lauren.
Lauren Moyes ….Zaha says he never met her.
Ferguson, it is understood, had already decided to retire before he met Zaha alongside Sir Bobby Charlton in London early in 2013.
It had not even occurred to Zaha to broach the subject, and he was left disappointed by the man who inherited the Old Trafford hotseat, too.
"I was disappointed (when Sir Alex retired)," says Zaha. "I was looking forward to working with him but I'm not going to beg him to come back on my account! I just had to get on with it.
"I think I did OK in pre-season, won a man of the match, but as soon as Moyes came he said I wasn't ready for the Premier League."
Did Moyes say why? "No. I didn't really understand it. I never got a response really.
"The only thing that I could think of was the bad game against Wigan in the Community Shield. It stresses me out if I mess up. I beat myself up. But I just thought, 'You have seen me play in pre-season, you have seen that I am at least decent enough to score a goal or something'. From there, he just stopped playing me."
Zaha never started a Premier League game for United and his torment ended when he rejoined Palace permanently after a loan spell at Cardiff during the club's relegation campaign.
"It's not all bad for me, I haven't faded away," he says. "I'm still playing — I'm still getting a chance. Going to Manchester United you're expected to be the final product. That's what it felt like. Maybe it would've been different with Ferguson, but I felt you had to be pinpoint on everything.
"I had to go to training knowing that I wasn't going to be playing. Then I would see United fans making jokes. I went through that every single day. I lived up there by myself with not really anybody to speak to."
Who knows what would have happened had United paid more attention, but Pardew firmly believes his No 11 would deserve a place in Van Gaal's team at the moment.
Zaha, however, is not looking back and is in the process of buying a house in London. "Pardew doesn't treat me like a robot," says Zaha, who might start on the bench against United. "I live my life fine now. I don't live and be scared of what might happen. I just come play."
Saturday's clash between his past and present clubs might just be the right time for him to show United exactly what they passed up.
THEY say a club can get under your skin – and that looks to be the case with Anfield's Brazil international Lucas Leiva who seemed destined to leave the club last summer.
He is still very much there – and look what happened when he took his young son into the Liverpool academy…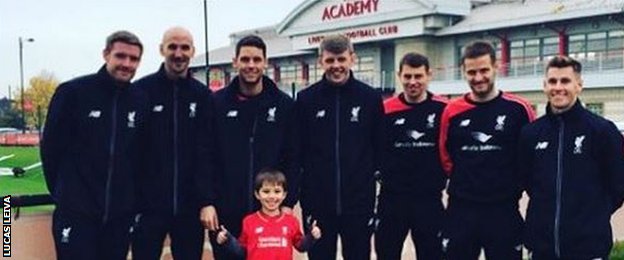 Midfielder Lucas  posted this picture (above) on Instagram  with the message: "Thanks all the coaches at the academy for looking after my son and teach him The Liverpool Way. He loves it."
Never mind the Liverpool way, what about the oval ball way?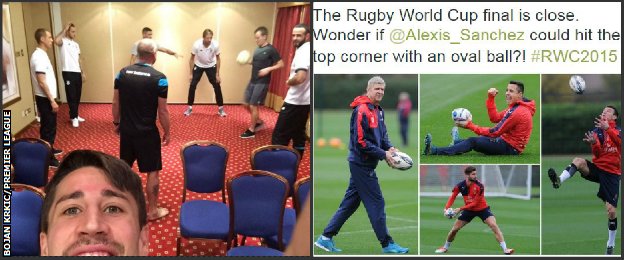 The Premier League tweeted a picture of Arsenal's players and manager playing some rugby before Saturday's World Cup final between Australia and New Zealand. (pictured above right)
Not only that, Stoke City forward Bojan Krkic is also looking forward to the World Cup finale, as shown by the picture of the Stoke players throwing a rugby ball around on Twitter. (pictured above left)