THERE is nothing much more frustrating in football than to warm a bench with little chance to show your manager, your fans – ore even yourself – how good a player you are.
Step forward Andros Townsend, Spurs' England winger who is a Grade A bench warmer this season. His frustrations spilled over – or certainly appeared to – in the immediate aftermath of Spurs comfortable 3-1 win over Aston Villa.
For Townsend appeared to have a heated row with fitness coach Nathan Gardiner (pictured above) as he emerged to go through his paces after the final whistle. He had been an unused substitute.
He'd spent the match in the dugout and Mail Online then posted these shots of what looks like an altercation with Gardiner.

Not seeing eye to eye? Andros Townsend and Nathan Gardiner appeared at odds with each  other.
Mail Online claimed that Townsend feels unhappy and mis-managed at Spurs who won't play him – yet won't let him leave, either. A number of offers from other clubs in the summer were ignored.
After the Villa game, Townsend stretched out – as is customary for substitutes who do not get on – for a light session on the pitch after the rest of the players headed into the dressing room to celebrate their victory.
The 24-year-old Townsend did not look in the best mood as he and Gardiner seemed to have a heated exchange.
Fitness coach Gardiner was pictured grabbing hold of Townsend's arm during the apparent disagreement before the pacey winger pushed the coach and pulled himself away.
The pair were also seen shouting in each others' direction as Townsend ran from one side of a pitch to the other before heading back down the tunnel to join the rest of the squad.
Gardiner seemed to shout at the player after their clash as he ran off.
Frustrated Townsend has been limited to just three appearances off the bench in the Premier League this season totalling just 64 minutes as Tottenham have enjoyed an impressive run of form.
ACROSS London, at beleagured Chelsea, skipper John Terry let rip on Tuesday at BBC pundit and ex-player Robbie Savage – Terry clearly felt Savage was not worthy to take pot-shots at him.
Both Terry and his team have come under serious criticism this season. Terry said he had taken – and would take – criticism from those he respected, naming Rio Ferdinand, Gary Neville and Jamie Carragher. But he was not prepared to take it from those who'd played "at a really bad level". And he named Robbie Savage
"Robbie Savage being one," said Terry. "He has dug me out a couple of times. I take it from the very best, other people – no."
But Savage, always a motormouth, could not help himself and had a predictable pop back, using social media…

Meanwhile, this TV punditry lark ain't all glamour…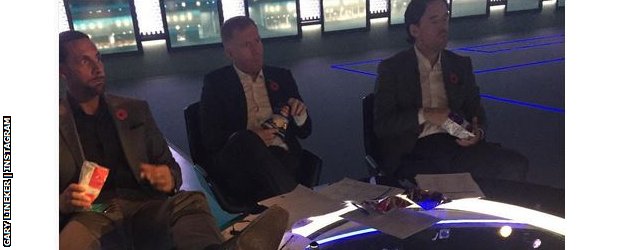 Gary Lineker got the crisps in for Rio Ferdinand, Paul Scholes and Owen Hargreaves as the three worked on BT Sport's coverage of the Champions League on Tuesday. "I'm seldom this generous," he wrote on Instagram. 
It has been a while coming, but Manchester City have their tails up in Europe…

Injured City full-back Pablo Zabaleta was pleased  with his side's qualification for the knockout stages of the Champions League.
Gary Neville and Robbie Savage were among the former footballers to share an emotional blog from Telegraph sports writer Paul Hayward,  who says a goal from Lionel Messi earlier this year helped him feel as though his cancer had 'fallen away'.
Tottenham striker Harry Kane's late goal in the Premier League win over Aston Villa on Monday earned his cousin Joe £5,000 from a winning bet.

(Metro)