JURGEN Klopp strides out with his team as they began their trip to take on Rubin Kazan in Russia.
Klopp's determination to kick-on after his bright start as Liverpool manager was underlined by the squad he assembled to take on the Russians.
Mail Online reported that Philippe Coutinho, the man whose two goals were the catalyst for a thumping 3-1 win at Chelsea on Saturday, was included, along with Christian Benteke and Roberto Firmino, Liverpool's two biggest signings of the summer window.
Joining them were captain James Milner and England internationals Nathaniel Clyne and Adam Lallana, as Klopp's side look to register their first victory in the Europa League this season.
There is no indication yet as to whether Klopp will select the same team as the one that was successful at Stamford Bridge but Thursday's game will certainly provide an opportunity for players such as Firmino, Benteke and Dejan Lovren to improve their match fitness.
Adam Bogdan and Mamadou Sakho are among the players to board the plane in Liverpool
Daniel Sturridge, however, will remain on Merseyside as he continues to be treated for an ongoing knee problem, along with Jordan Henderson, who is working his way back to fitness after breaking his foot in September.
Mail Online posted these photographs, released by Liverpool, as the club looked to stretch their unbeaten run of five matches since Klopp succeeded Brendan Rodgers.  They will need to as they are in a difficult spot in the Europa League group on the back of consecutive draws with Bordeaux, FC Sion and Kazan.
After tomorrow's game, they face Bordeaux at home before signing off with a trip to Switzerland and if Klopp wants to reach the last 32, it is imperative that Liverpool avoid defeat in Russia.
It will be a test of the squad's stamina and physical condition, as the flight time is five hours to Kazan and they will not arrive back until the early hours of Friday morning before facing Crystal Palace at Anfield on Sunday.
Klopp said after winning at Chelsea: "We have very difficult games now, we have to play to Russia. We then come back to play against Crystal Palace, who will have fresh legs against us. It is not the most easy thing. We know about our situation. We will work hard."
Monaco used Twitter to deny they have made an approach for Jose Mourinho  after shareholder Alessandro Proto claimed the Ligue 1 side were interested in appointing the Chelsea boss.
Midfielder Fabian Delph endeared himself to the travelling Manchester City fans by sliding in front of the away end  after his side's 3-1 win at Sevilla in the Champions League on Tuesday.
Bayern Munich's official Twitter feed revelled in their side's 5-1 win over Arsenal in the Champions League on Wednesday, marking Thomas Muller's goal – their second – with a single-word post:"Mullered". 
Spurs playmaker Christian Eriksen is challenged to name team-mates from descriptions by fans – and correctly selects himself as the answer to the question of who the best free-kick taker in the Premier League is.(YouTube) 
Now look at this…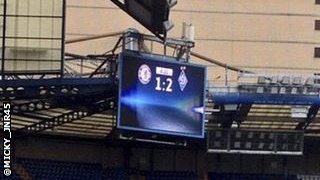 Chelsea may not have been feeling too confident before their Champions League game with Dynamo Kiev on Wednesday, as a fan took a picture of the scoreboard at Stamford Bridge  showing the visitors holding a 2-1 lead – five hours before kick-off. The match did finish 2-1, but in favour of the Blues.