Manchester United may have won the 'Houston derby' against rivals City – but there were plenty of positives for Pep Guardiola too.
Not least, the first team debut of teenage sensation Phil Foden whose performance sent the Manchester City boss into raptures.
Guardiola said he didn't have the words to describe what he saw, insisting that 17-year-old Foden's performance was 'at another level'.
A lifelong City fan, Foden wowed the American public – and the travelling fans from Manchester – with a mature display that defied his tender years.
He may not be a regular starter in the Premier League next season, but he has certainly given Guardiola food for thought.
According to some reports he ran Paul Pogba and Ander Herrera 'ragged' and proved he is capable of performing on the big stage.
Pep is excited, understandably so, and the England youth international may well feature in City's next tour games against Real Madrid and Spurs over the next two weeks.
A left-footed player, in the mould of David Silva, the Academy graduate has also made a big impression on his teammates. As well as the boss and the fans.
Quoted on the Manchester City website – https://www.mancity.com/news/first-team/first-team-news/2017/july/us-tour-who-is-phil-foden – Pep was glowing in his praise of the midfield playmaker who first played for City at Under 9 level.
The City boss said: "I don't have words – I would like to have the right words to describe what I saw. You are the guys who saw the first game for the first team for this guy.
"It's a long time since I saw this, his performance was another level. He's a City player, he grew up in academy he loves the club and for us a gift, maybe he'll play with us in season because he's special."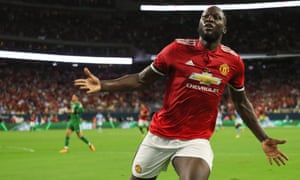 Romelu Lukaku and Marcus Rashford scored as 67,401 at NRG Stadium watched United win 2-0 in the first Manchester derby outside England.