EVER since the great Sir Alf Ramsey led England to World Cup success in that famous summer of 1966, many have tried – and subsequently failed – to recreate former glories.
Some have come close…Bobby Robson at Italia 90 and Terry Venables at Euro 96, to name just two.
So where do England, under Gareth Southgate, stand now in the great scheme of things?
World Cup qualifiers, certainly. World Cup winners. Unlikely.
We have seen it all before; hope before the heroic failure.
A new generation of players carry those hopes – and dreams – under Southgate who should be given time to prove himself.
Just as 'El Tel' should have been allowed time to develop and enhance what was a magnificent group of players…
…just as Glenn Hoddle should have been given the time and opportunity to do likewise.
Ironically, Sam Allardyce is the only England manager with a 100 per cent record – but, then, he was in charge for only one game!!!
Zapsportz team leader Glenn's record as national boss stands up there with the best.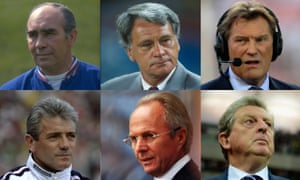 Let's have a quick look at the stats in terms of win percentage…since the Ramsey reign which procured a 61.1 per cent win rate.
Don Revie (1974-1977) 29 games – 48.3 per cent
Ron Greenwood (1977-1982) 55 games – 60 per cent
Bobby Robson (1982-1990) 95 games – 49.5 per cent
Graham Taylor (1990-1993) 38 games – 47.4 per cent
Terry Venables (1994-1996) 23 games – 47.8 per cent
Glenn Hoddle (1996-1999) 28 games – 60.7 per cent
Kevin Keegan (1999-2000) 18 games – 38.9 per cent
Sven-Goran Eriksson (2001-2006) 67 games – 59.7 per cent
Steve McClaren (2006-2007) 18 games – 50 per cent
Fabio Capello (2008-2012) 42 games – 66.7 per cent
Roy Hodgson (2012-2016) 56 games – 59.9 per cent
Gareth Southgate (2016-onwards) 4 games – 50 per cent