Former England manager Glenn Hoddle believes it is vital Gareth Southgate gets a promising performance from his new look national team, irrespective of the result – and he predicts England will get a draw of even 'sneak' a win.
As the Premier League takes a long international break with England building up to a World Cup qualifier at Wembley, Hoddle knows from first hand experience what Southgate is seeking from the experience some of his players will have for the first time facing Germany.
In an exclusive interview for
zapsportz.com
, Hoddle, star pundit for ITV's live coverage of England games, says: "England normally raise their game against Germany for obvious reasons, and did exceptionally well in their last friendly in Germany, and beat them four or five years ago.
"But, of course, friendlies are different, vastly different from the real thing and in this friendly there is no way of telling just how strong a side Germany will put out as we are all at the business end of the season and players are not going to be at 110% full throttle.
"But I expect England to hold their now with a draw, or even sneak a win.  However, it is more important how England play than the result.  Gareth won't worry if England play really well, but lose.  Sometimes as an England manager you learn more if you lose but get a good performance from some players you are making your mind up about."
Hoddle has described Southgate's decision to pick veteran Jermain Defoe as 'visionary' because future selections will become harder rather than easier.
With fewer English players available for selection than ever before, given the ever-growing influx of foreign imports, Hoddle welcomes the recall of Sunderland saviour Defoe, who returns to the international fold after a three-year absence.
The former Chelsea and Spurs boss says:  "The England manager has limited options these days and I've no doubt this is a problem that will only get worse as the years go by.
"But you only have to look at the list of goalscorers to see that Defoe is still one of the best, certainly one of the best English strikers. He has scored 14 goals in a team at the bottom of the Premier League, with limited amount of chances. That is quite remarkable.
"In fact I am sure his goalscoring rate is probably better than even the likes of Costa, Kane and Lukaku given the scarcity of chances produced by Sunderland.
"So in a way it is a visionary decision by Gareth Southgate, and he can do even better with a greater number of chances per game playing for England with so many better players."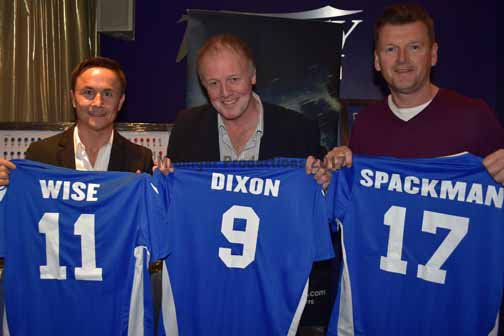 * Glenn Hoddle played in the same World Cup squad as Kerry Dixon in the 1986 World Cup in Mexico,where in the build up Dixon's full England debut he scored twice against the Germans.
Dixon will be at Planet Hollywood on Wednesday for the big game against Germany, providing personal and private punditry on the night, after an exclusive screening of his Legends Lives film – a double header, plus at Burger & Pint from Planet Hollywood.
All for a bargain £39.99.