DAVID Moyes' once-proud reputation as a top Premier League boss is in tatters this evening as he parted company with Sunderland after a third, successive managerial failure.
Having been lauded for his work at Everton over a lengthy spell, it has all gone pear-shaped for the Scot at Manchester United, Real Sociedad and now Sunderland.
Moyes was unable to turn a very average squad into a decent side capable of surviving in the top flight, and relegation came as no surprise to one and all.
After a meeting with chairman Ellis Short this afternoon , it was announced that he had resigned his post – with Jermain Defoe, amongst others, set to follow suit.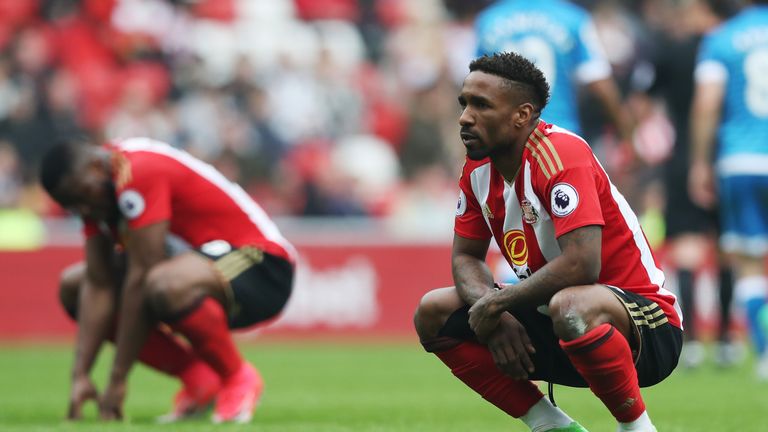 Leading scorer Defoe is believed to be involved in talks with Bournemouth where he enjoyed a supremely successful spell as a teenage sensation before making his name at West Ham and Spurs.
The former England international was one of the few shining lights in a dark season at Sunderland where he scored more than half the team's goals.
A shame for Moyes that so many other players didn't follow Defoe's example and fight for the cause; for the badge.
Defoe will depart with his head held high, but the same cannot be said of Moyes and we can only wait and wonder where he goes from here.
Sunderland finished bottom of the table on 24 points, with only six wins under their belt. After ending a ten-year stay in the top flight, this club needs a complete overhaul.
In a statement sent out to the media by the club this afternoon, Moyes said: "I would like to thank Ellis Short and the Board for giving me the opportunity to manage Sunderland and the fans for always being so passionately supportive of their club."
He added: "I wish the players and my successor well in their efforts towards promotion back to the Premier League."