He is the answer to one of the most impossible questions in football. Who is the greatest football player of all time? There is no definitive answer, as it all comes down to opinion. Some say Pele, others say Messi, but there is no right or wrong. But this man that I speak of has a good claim to be named the most influential football player, manager, and quite frankly, a revolutionary. For that man is Johan Cruyff.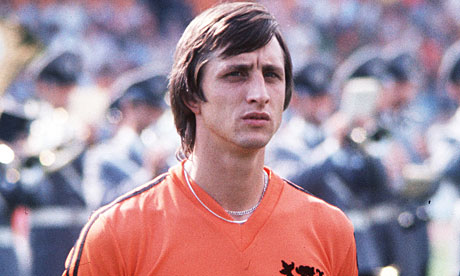 Cruyff can put forward a case that he is the father of modern football, as his influence spreads far and wide. If it wasn't for Cruyff, there is a good cause to believe that Barcelona would not have had the "tika-taka" style of play they amazed fans with. Pep Guardiola may never have happened. Louis Van Gaal may never have happened. Even Arsene Wenger. But is the influence of Cruyff forgotten too easily, or are people not aware of what he did for modern football?
To fully understand the Cruyff story, you have to go back to the very beginning, when the young Dutchman started his career at a little team in Amsterdam by the name of Ajax. In his first season with Ajax, they finished 13th in the Eredivisie, which was their lowest since the formation of professional football at the club. When he left, he had won 6 Eredivisie titles, 4 KNVB cups, and famously won 3 European Cups in a row. The partnership of Cruyff and his mentor Rinus Michels proved to be one of the most successful in football history. Together, they changed the history of Ajax, and invented the major tactic known as "Total Football", a name given to the style by everyone outside of the Netherlands.
Even now, if you go to YouTube and watch how the Michels and Cruyff Ajax teams played, they would give any team now a run for their money. The Total Football tactic is still being used today, just not to the same effect as at that of the Dutch. One club, who use a variation of this style, is another who have had their history changed by Cruyff and Michels.
When the Dutch pair joined Barcelona, they probably weren't aware of how much their football would change Barcelona, and how much they would individually affect football as a whole.
Cruyff's playing style was charismatic and had that hint of unpredictability that you didn't know what he could pull off. He was summed up beautifully by what is known as "the impossible goal" where a ball is floated in to the back post, and with the ball looking set to go out for a goal kick, Cruyff flings his right heel at the ball, and it finds its way to the back of the net. That is the perfect way to summarize Cruyff as a player. A piece of individual magic that helps the team, and makes people wonder, "how did he do that".
For all of Cruyff's talent as a player and that amount of trophies he has won, his greatest influence will be remembered as a leader, as a manager, and as a coach, in particular, his time at Barcelona.
He joined the club in 1988, and had brought in his "Total Football" style to Catalonia. There is one story about how Cruyff was watching the Barcelona youth team one day, and noticed a tall, skinny central midfielder, who had a great eye for a pass. Cruyff didn't seem to care that this player was weak on the ball, but when he had the ball, this kid could find anyone with any pass. If you're wondering who this kid is, it just happened to be Josep Guardiola, someone who Cruyff changed massively. In a team full of stars such as Romario, Ronald Koeman, Gheroghe Hagi, Hristo Stoichkov, a youth player like Guardiola still played a massively important role.
This formed what is now known at Barcelona as the "Dutch Influence", and influenced the Spanish World Cup winning side, and European Championship winners. Pep Guardiola has been quoted as saying "Throughout my career, I've simply tried to install what I learned from Johan Cruyff. He had the biggest influence on football out of anyone in the world, first as a player and then as a coach. He taught me a lot and you can see that in the fact that most of his ex players are now coaches".
How else can you describe Cruyff as a Modern Football genius? He may have his moments that makes you question his motives, but when you look at every great of the game, they all have them moments. Cruyff is, at least in my opinion, why we have so many great ball players in the world of football. Even in the future, if a childs hero is Messi, Xavi or even Iniesta, it essentially means that Cruyff inspired them. At least that's how I see it.
Don't agree? Well, tweet me @TomScholes316 if you feel if anyone can h=be named as a revolutionary of Modern Football.