HUDDERSFIELD are on their way to Wembley and the Premier League is in touching distance – and it's all down to one man…the new Jurgen Klopp.
Not only does David Wagner look like his fellow German – the specs, the beard, the smile – the Town manager shares the same football philosophy.
All of which comes from their time together at Borussia Dortmund where Wagner, an up-and-coming coach and leader of the second team, was shown the ropes by the would-be master.
Now, after Huddersfield won their semi final play-off against Sheffield Wednesday on penalties, the pair are only 90 minutes, or so, from rubbing shoulders again.
Their Dortmund roots are unbreakable. I remember seeing Huddersfield win at Ipswich earlier in the season when I thought 'this is a side assembled in Yorkshire, but made in Germany'. Dortmund to be precise.
Even down to the iridescent, luminescent yellow away shirts which bore Wagner's Borussia background.
The rousing celebration – team in a line, charge forward, arms raised in front of the fans – was Dortmund all over. Klopp all over.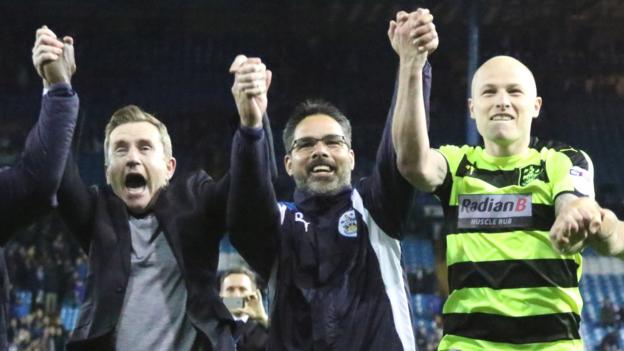 Wagner learned a lot from his time under Klopp's care and, suddenly, they could be coming head-to-head in the English Premier League. Who would have thought it?
I could not help to be impressed by the style of Huddersfield's play throughout the season. Yes, they have had their hic-cups, but they have never wavered from their manager's methodical approach.
Now they have got their just desserts; they are going to Wembley to face Reading for arguably the biggest test of their lives. And the biggest cash prize in domestic football.
None of which was lost on Wagner, who said after the penalty shoot-out win at Hillsborough: "Now we are in the final the fairytale goes on and we want to write the last chapter at Wembley."
As quoted on the BBC Sport website – http://www.bbc.co.uk/sport/football/39866499 – Wagner added: "Everyone knows most pundits said we would be in relegation trouble or we'd get relegated and now we're one step away from the Premier League. We are the small dog, the terrier, but we have belief."