A WELL-drilled Juventus side sent out an MSN message to Barcelona: you are not the force you used to be.
Barca needed Lionel Messi, Luis Suarez and Neymar to turn this tie around after a disastrous first leg.
But even three of the best footballers on the planet could not find a way past a Juve defence that refused to break.
It was like watching Italian sides of old; thou shall not pass.
Messi, Suarez and Neymar were nullified virtually throughout. And five-times winners Barcelona had to take their medicine.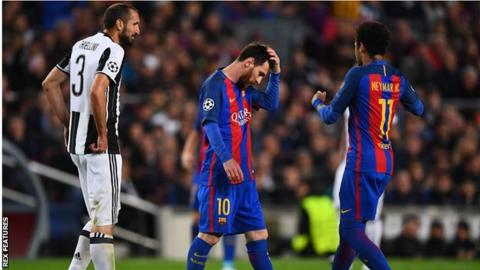 When the draw for the semi finals is made on Friday, the three other contenders for the title will not fancy facing this Juventus side.
They are ruthless in every department of the pitch; not least in defence where Chiellini  and Bonuccci were imperious.
Messi, in particular, failed in front of goal as he went in search of his 500th Barcelona goal. He hardly had a look in.
It was a professional job carried out to perfection by a Juventus side who knew their individual roles. As well as working as a team.
Barca boss Luis Enrique was confident his side could come back from the 3-0 defeat in Turin. But it wasn't meant to be.
His future will now be in doubt, as Juventus take their place in the semi finals along with Monaco – victors over Borussia Dortmund – and Atletico Madrid and Real Madrid in the last four.
Who's your money on?