THE picture below just about says it all – this was one game too far for England and the players who have endured a long, hard season.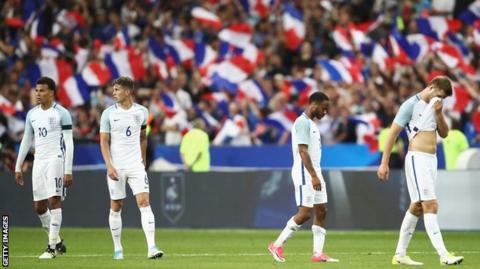 Why the FA and the England management team felt the need to play a meaningless friendly at this time of year is open to conjecture.
The players are winding down; they were never going to be at their best (Harry Kane aside) and I really don't see what benefits could be gained.
Yes, Gareth Southgate might have learned a little bit more about certain individuals…
…and about the quality of opposition they are going to face moving forward. But didn't he know that already?
Lessons to be learned. A step backwards? Time will tell.
England will qualify for the World Cup finals, no doubt, so this might well be a worthy wake-up call.
The Three Lions, young and vibrant, have to learn how to deal with top quality teams. Learn how to manage games; when it matters.
That was the essence of manager Gareth Southgate's message to his squad after the 3-2 defeat at the Stade de France.
"You have got to control possession and stay calm but I thought we looked more anxious with 10 men," said the man at the helm.
I'm yet to be convinced about Southgate's qualities and abilities to manage at this level. But he's a good man -and we live in hope.
Still think Glenn Hoddle would be the best man for the job (again) but then I would say that, wouldn't I?
Experience, wisdom, knowledge, tactical awareness, passion and pride – you cannot put a price on that.