JOHN Cullen has been named the EFL Young Player of the Month for April, after helping to fire Bradford City into tomorrow's Sky Bet League One Play-Off Final at Wembley for what will be his Bantams' swansong before returning to his parent club.
Bradford fans have their own unique song for their Republic of Ireland international who joined the club on loan from West Ham towards the end of last season. Sung to the tune of 'Achy, breaky heart' by Billy Ray Cyrus it goes…
'We've got Cullen, Joshua Cullen, I just don't think you understand. We got him from West Ham, he's better than Zidane. We've got Joshua Cullen'
"It's nice to hear that from the stands, but the main thing is the result and playing for the team," Cullen, who is on loan at Bradford from West Ham, told BBC Sport – http://www.bbc.co.uk/sport/football/39949132 . "It's another one you dream of, a bit of a surreal feeling as a young player hearing it.
"It's obviously a bit far to say I'm better than Zidane, but it's a good feeling to have that support from the fans and I can only say thank you to them."
Cullen has been a model of consistency in the heart of the Bantams midfield this season, and he carried his fine form into the final month of the Sky Bet League One campaign.  The 21-year-old, who made just one first team appearance for West Ham before his loan move, delivered a string of impressive displays in April, as Bradford ensured a top-five finish with 13 points from a possible 18.
 They have subsequently seen off Fleetwood in the play-off semi finals, and Cullen would love to sign off at Wembley tomorrow by helping the Bantams to promotion.
Upon receiving the award, Cullen said: "It's a nice achievement for me personally to pick up, so I'm delighted to receive the award, especially at such an important time of the season."
In a statement sent to Zapsportz by the LMA, Cullen added: "Every game is a massive game at this stage, and you really need to push on and perform as well as you can. I've just tried doing what I've been doing all season and it's great to be rewarded."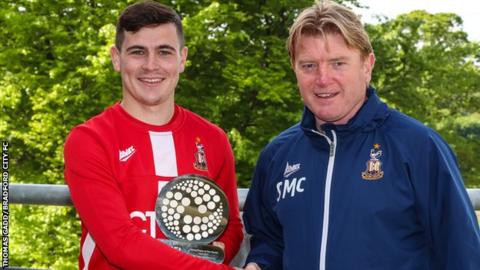 Bradford manager Stuart McCall had high praise for Cullen after he collected the prestigious award, which has previously been won by the likes of Dele Alli, Wilfried Zaha and Jonjo Shelvey during their younger years.
McCall believes Cullen has a very bright future and says: "Josh's knowledge of the game is superb. He could have won this award any month to be honest because his consistency has been fantastic. I can't keep speaking highly enough of him, he's barely had a bad game.
"He's mature beyond his years as a player; you'd think he'd been in the game a long, long time. He plays like a seasoned pro and he's still such a young age."
 * For more information, please visit www.efl.c